My wife decided she deserved a vacation celebrating her 50th birthday (funny….I don't remember "deserving" anything when I turned 50….hmmmmm) so a few weeks ago we headed down to Texas. I had the great inspiration to make her a rod for Christmas….also celebrating her doctorate in education (that's the kind of doctor that is really good for nothing…..don't mention I said that)….this rod was one of my favorites and is a 30 year old Lamiglas blank I stripped to bare rod….refinished the blank then rewrapped it…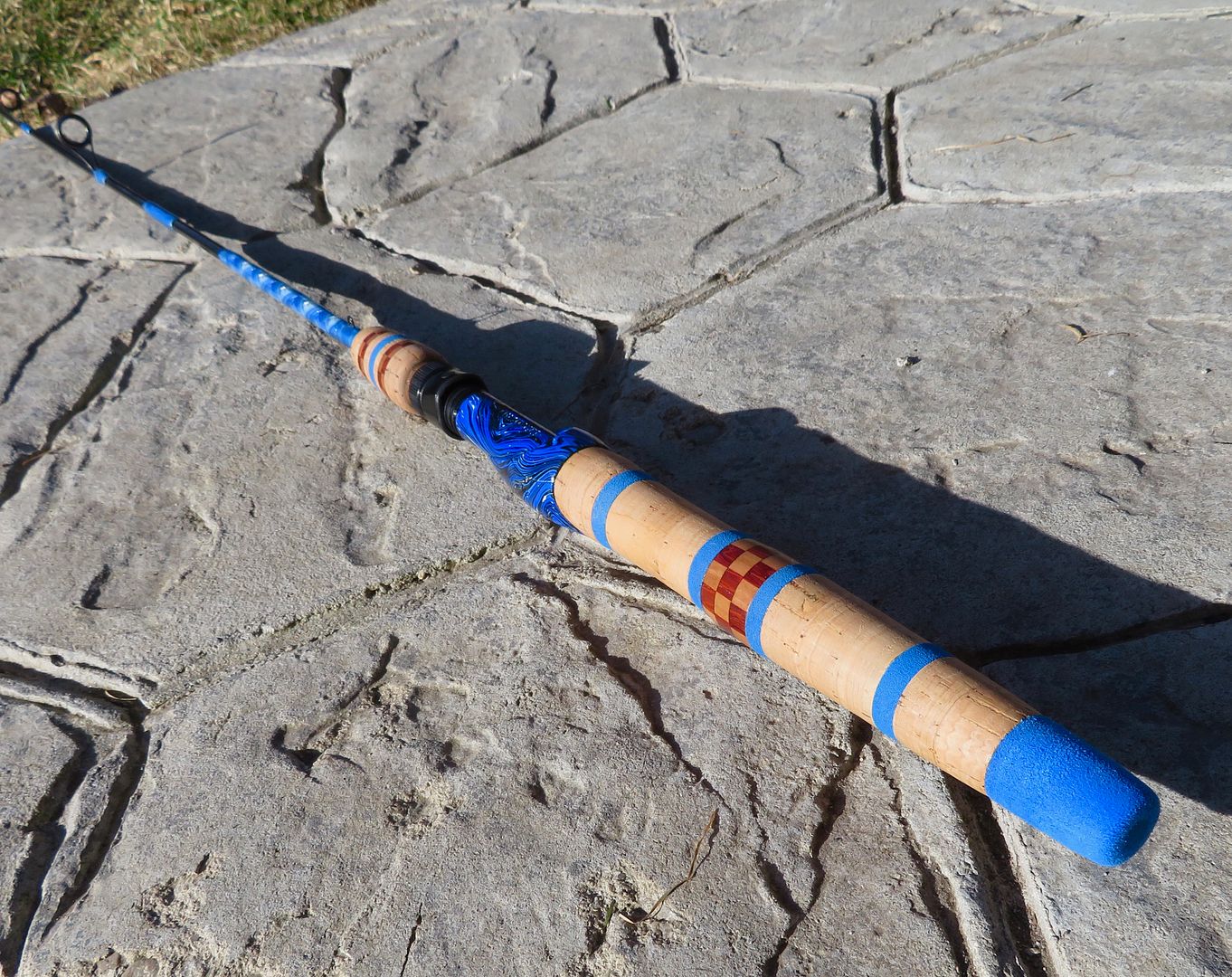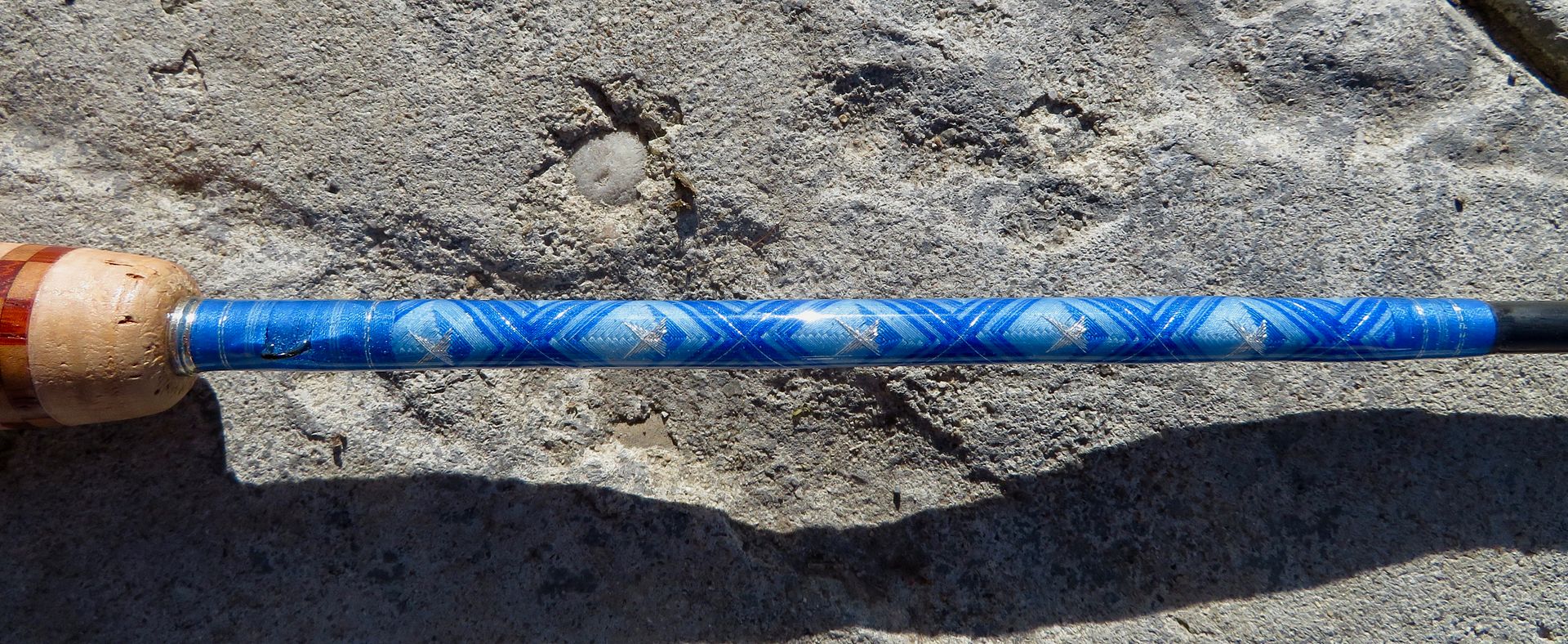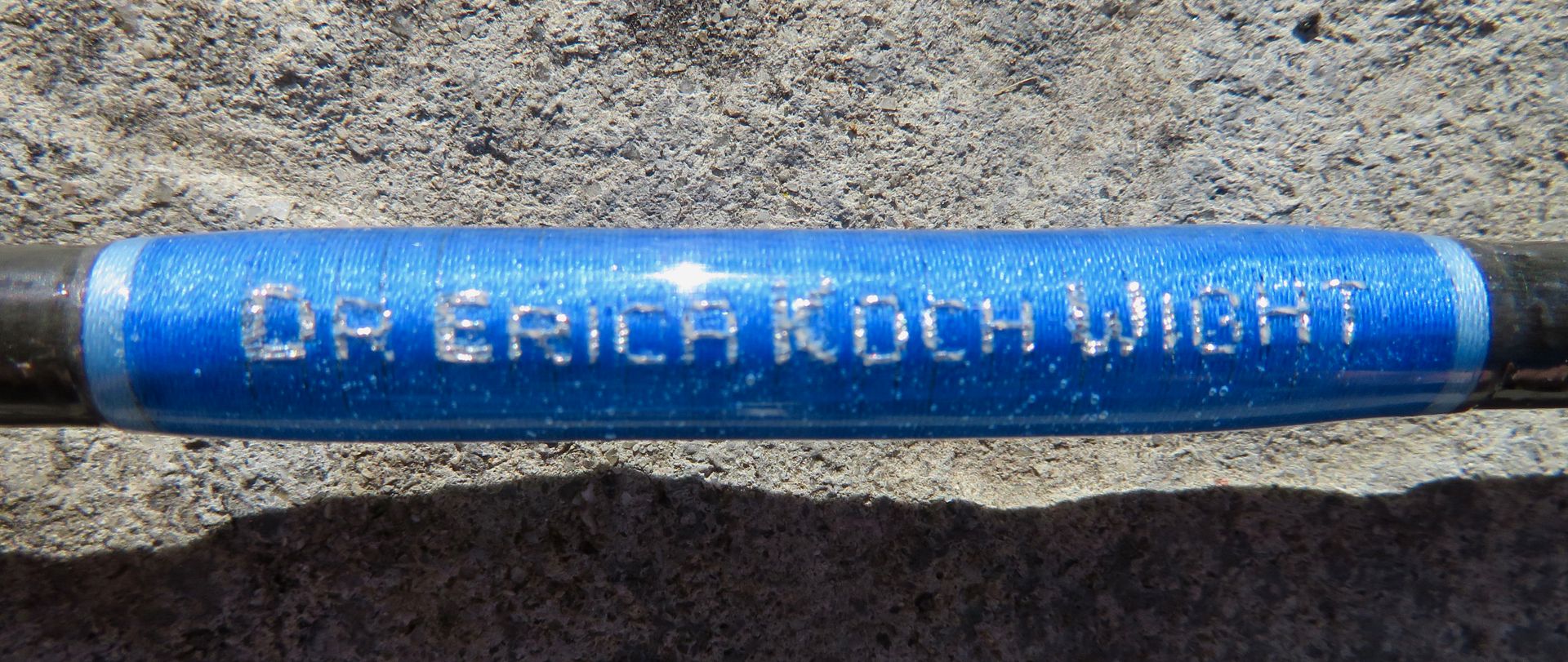 Erica felt she needed to accompany me as I pursued my annual spring bass fest in Austin in order to test the catching ability of HER new rod. So the morning after we get there it was up and meeting my friend Shea on the Colorado River below Austin. Fishing had really been up and down as the river system and its lakes are completely full and the powers that be kept opening the gates and periodically flooding the lower Colorado during the day and night making it almost unfishable. We took a chance, as the water was pretty normal this morning. We hit the river in Shea's float boat and Erica immediately caught not only the first bass (a Guadalupe), but her first bass period and the first fish on her new rod…..wasn't big but she was revved up….
Within the first 45 minutes she was up 5 fish to 1 on me but I was having a great time watching her enjoy herself so much. A couple hours of the occasional small bass and she tagged her first ever white bass….difficult to tell how excited she is by the smile….hehehe…..
She was using a new, shad colored LuckyCraft jerkbait…..she was reeling it in all wrong but the fish didn't seem to care at all. Finally I tagged a very nice Guadalupe…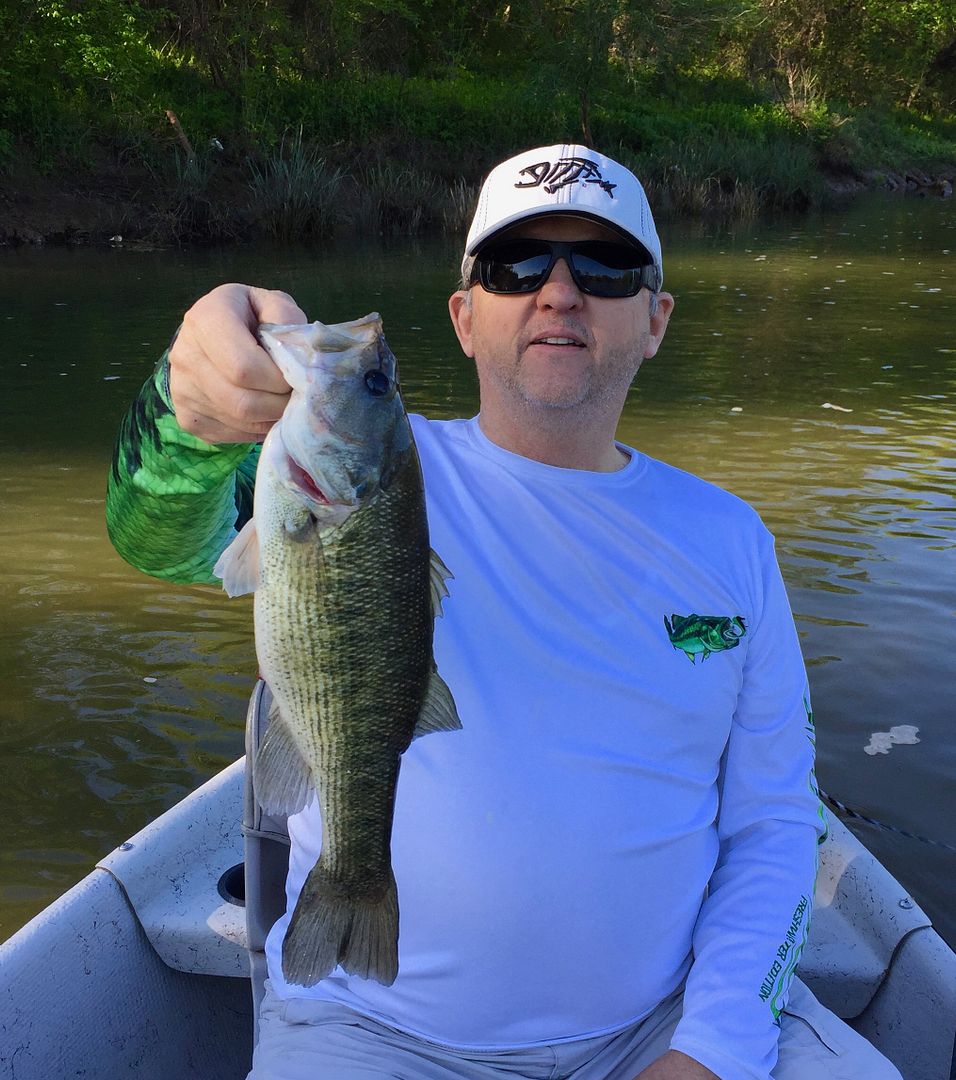 Not 20 minutes later I popped another nice guaddie on a crawdad crankbait…..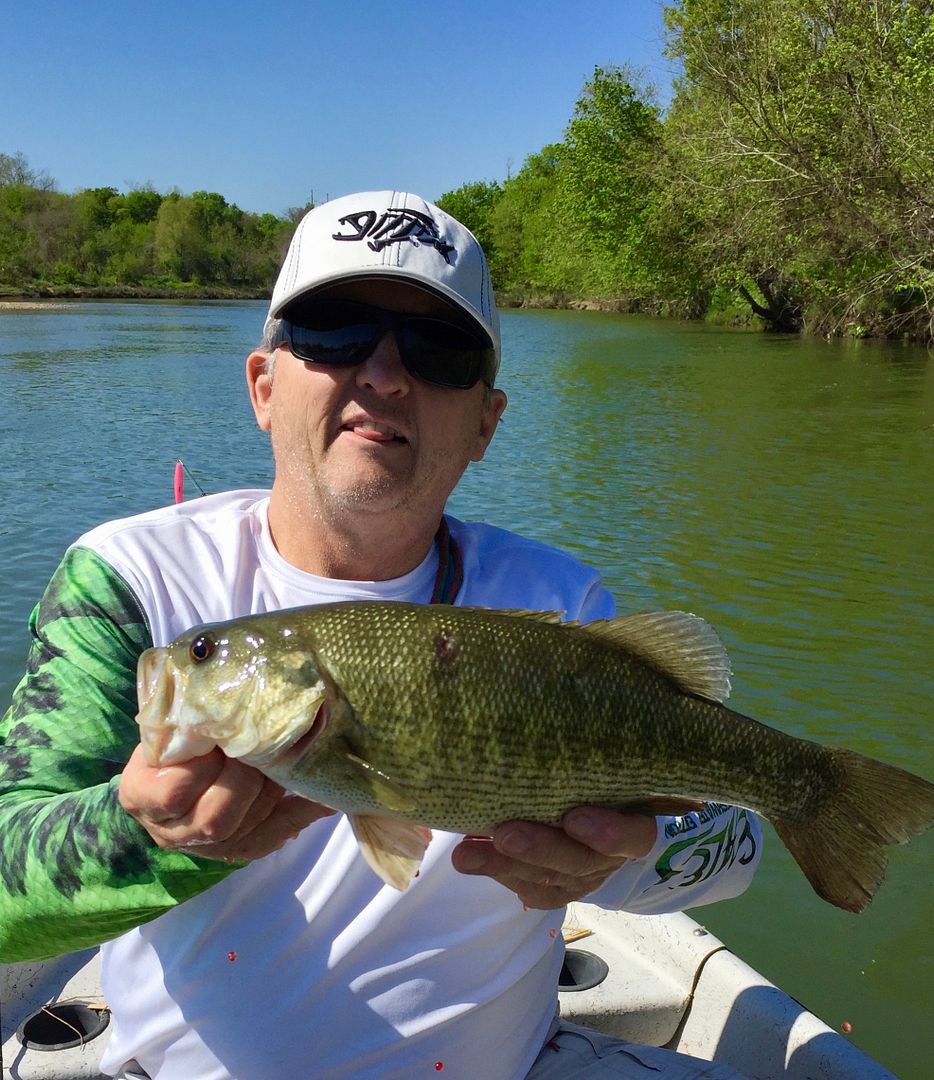 Then Erica popped another white bass and I quickly threw into the same spot and caught one also (of course, mine was bigger….)…..
It was nice having the whities around….they spawn in April and were moving upriver. Usually we might catch a few in the spring but today they seemed to be a few in every deep roiling run of water…..nice addition to the other bass.
Although this is one of the stretches that is known for largemouth from 4-8 lbs they really seemed to have lockjaw today. We decided to do lunch in a quiet little backwater and Shea showed my wife a great lunch….
Of course, I can never sit still for 10 seconds is there is fishable water around and managed to tag a few small ones near our lunch beach…..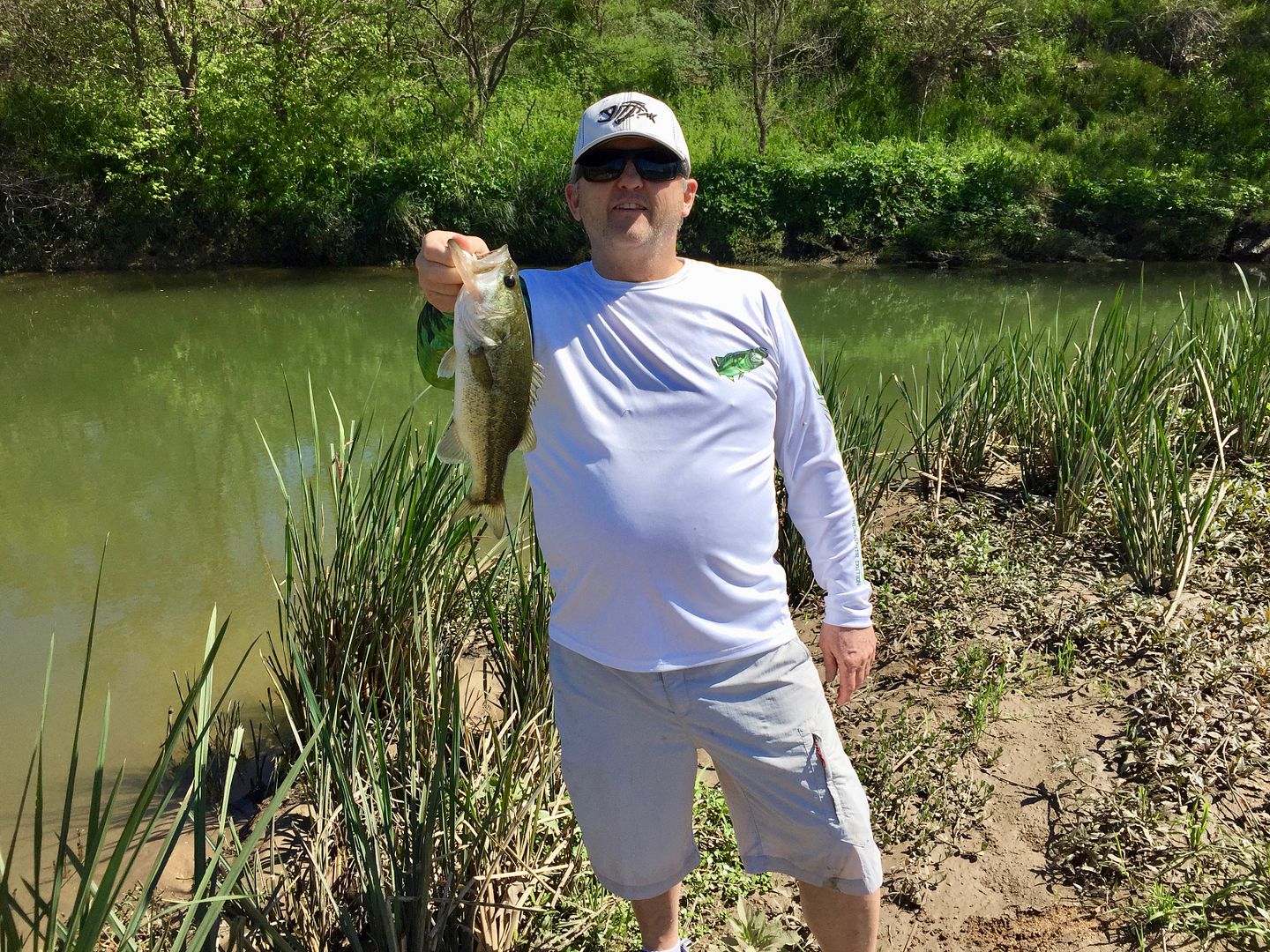 We kept on cruising down the river hitting more white bass…..
Shea says most fishermen feel the whities are always minnow eaters so they use those for bait. We found crawdad feelers sticking out of a few white bass throats and I caught my 12 whities with a near split between a minnow jerkbait and a crawdad crankbait…..none on flukes though (I did catch my trophy 4 lbs white bass in this stretch 4 years earlier on a crawdad crank). Shea said it was one of the few times he could actually target white bass as the water they prefer is different than black bass……
Managed a few nice largemouth during the afternoon…..
It wasn't long after lunch the river began to rise pretty fast…..Shea checked and they had opened the gates again at the dam upriver….dammit. It seemed to stimulate the fish for about 90 minutes, then as it peaked about 2 feet higher they just shut down.
But as the water rose we hit some more excited white bass and a few largemouth….
We thought we wouldn't see any largemouth in the large range but honest to goodness, this was the last fish caught. If you look behind me I drug (probably correctly should be "dragged" but that sounds stupid) a crawdad D4 right in front of those branches in the water and hooked a little bass about 8 inches. As he was coming up right under the boat a big largemouth jumped up and tried to eat him….beautiful coloration on this fish. I quickly removed the small fish and chucked back in to repeat the drift 3 times……nothing. One last cast as we continued to float to our nearby take out and then she just stopped it….thought I'd found the log. Nice fight and we netted and CPRed her quickly….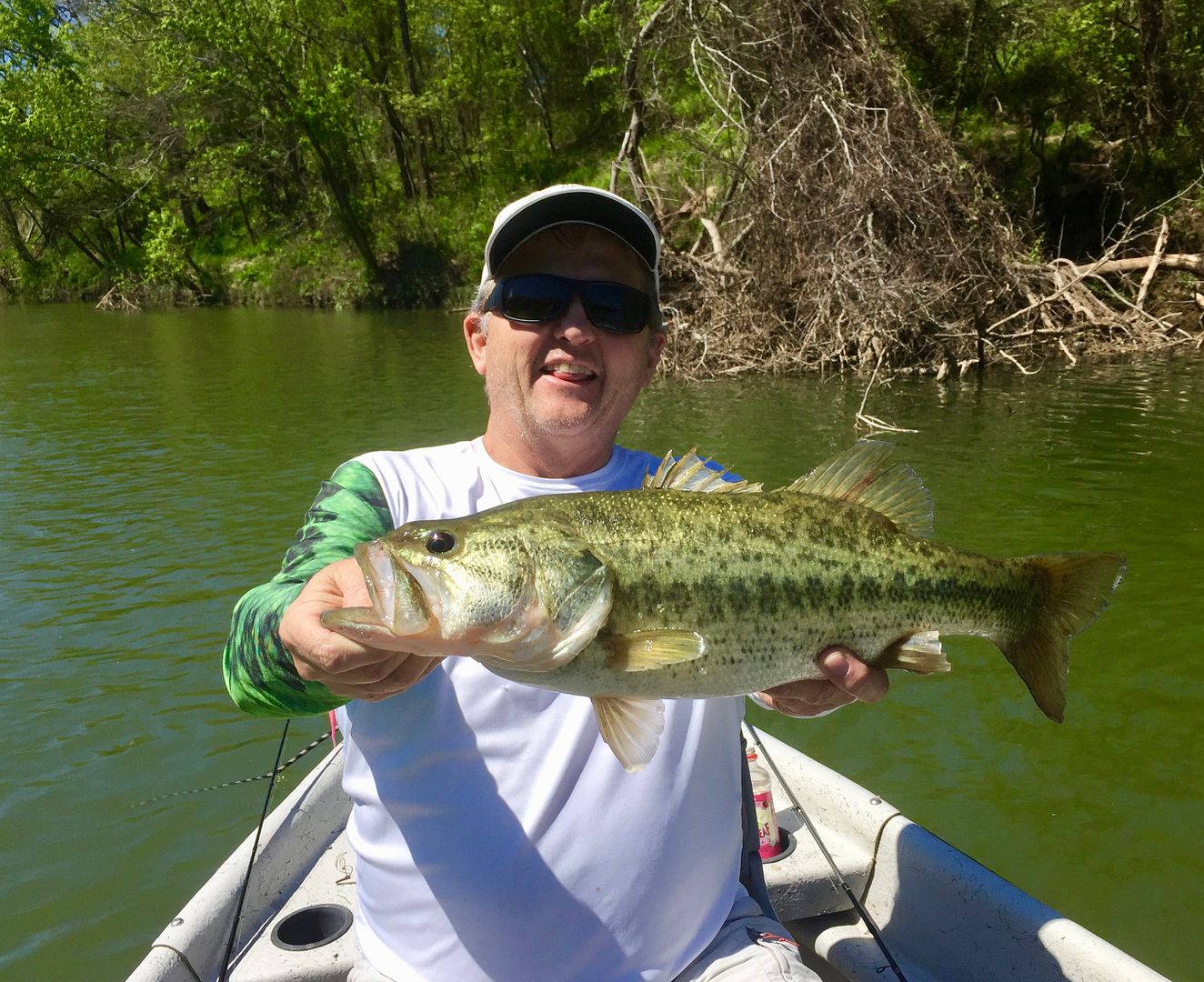 What a gorgeous largemouth to end the day. Our general count for the day was 12-15 for her and about 25 for me…..nice day considering the water level issues. My wife had a great time, got a little sunburned and said her arm was killing her as she'd never fished a full day. She was going to fish with me the next day but said her arm was killing her and she was dang tired. My daughter was flying into Austin late that night and would fish with me on Friday. That left Thursday for just Shea and I……
So we decided to head up to the Llano River about 90 minutes west of Austin in the middle of nowhere….love fishing this little river which is always crystal clear. It was high 60's, cloudy with a pretty gusty wind. We changed from Shea's little boat to a raft as there are many rocks to portage over in the Llano. Never having fished in this particular vehicle before tragedy struck in the first 30 minutes. There was an apron to stand and lean on fishing in the front but, unlike Shea's boat, this one didn't wrap around the side very far. Anyway, we just got fishing good and I blindly reached out to catch the apron with my left hand and guess what???? There was nothing there! Having a video of this would have been priceless. I just hit air and slowly went straight sidewise, headfirst into the water….about waist deep and a bit chilly. It took me a second to remember I had my new camera in my shorts pocket and immediately took it out and chucked it to Shea……too late, wouldn't work….still doesn't but fortunately I also have my fishing camera insured for "accidents". As long as I was in the cool river I decided to relieve myself and then to find my fishing rod…..thank goodness for clear water. It was about this time I remembered my cell phone was in my other pocket….and, although it is water resistant, it had been submerged for about 5 minutes. Threw it to Shea and finally hoped back in the raft a bit wetter then when I left it. He offered me a change of clothes he had but I told him I would just drip dry….thank goodness for Alaskan weather conditioning. About this time there was water bubbling around my cell phone. After picking it up I realized the battery compartment was hotter than hades….lithium ion batteries don't do well if water gets in the casing and this battery was several years old. Took it out but the battery was permanently fried. I firmly believe my wife "willed" me into the water with my phone as she has been trying to rid me of my beloved Samsung Rugby for a long time…man, that thing has been nearly indestructible. (After returning home I got a new battery and the phone worked fine EXCEPT the ports to the phone from the SIM chip had been fried so it wouldn't work….at least I can still play Bejeweled on it….haha.) So now the only camera we had was Shea's phone and it was reading 2% power……we didn't take many pictures on this trip….too bad. Started the day out early with a nice fat guaddie…..usually these guys are skinnier up here than on the Colorado….evidently they are eating well…
Guaddies over 2 pounds are rare on the Llano. Managed to catch quite a few smaller bass, predominantly on a bubble gum fluke but didn't even see any bigger fish. By lunchtime about 15 had been caught and they were really spread out all over the place….we couldn't seem to find any pattern. The fish we found were being quite aggressive we just couldn't find anything bigger. Normally we fish to about 4 pm as we have quite a drive back to town. About 3 pm we were floating a small side water that was only about 18 inches deep against the bank. We had tagged a few small guaddies back here and were reaching the end of this stretch when Shea commented, "We just can't seem to find any large bass." I kid you not as the last 3 words were plopping out of his mouth I watched a large bass swim out from under a branch and inhale my fluke. So almost without a break in between his statement I yelled, "Except this one!" as I slammed the hook home. She went berserk, had to work her out from under some branches but finally got a good fish in the net…..
That woke us up a bit better but we only had about another mile of our float left. Within several minutes of this fish we started down a long stretch where all bass hell broke loose. The fish turned on like a switch and we couldn't keep them off the line. It was one of those times you have to fish a lot to have…..freak feeding period when the fish just go wild. We started down a stretch with overhanging weeds on the bank and immediately I had about a 10 inch bass grab my fluke just as I was going to set the hook, a monster, significantly larger than the last bass, jumped out and pulls the chartreuse fluke away from the smaller bass and it disappears. I whack the fish as hard as I dare and she takes off downstream, then upstream and then poof, the hook pops out……I'm a bit upset but I just tip my hat to the fish….can't win them all I caught several bass in this spot as we floated slowly down it and then through some bushes we found a backwater that Shea hadn't ever found before. All the fish were dark back there….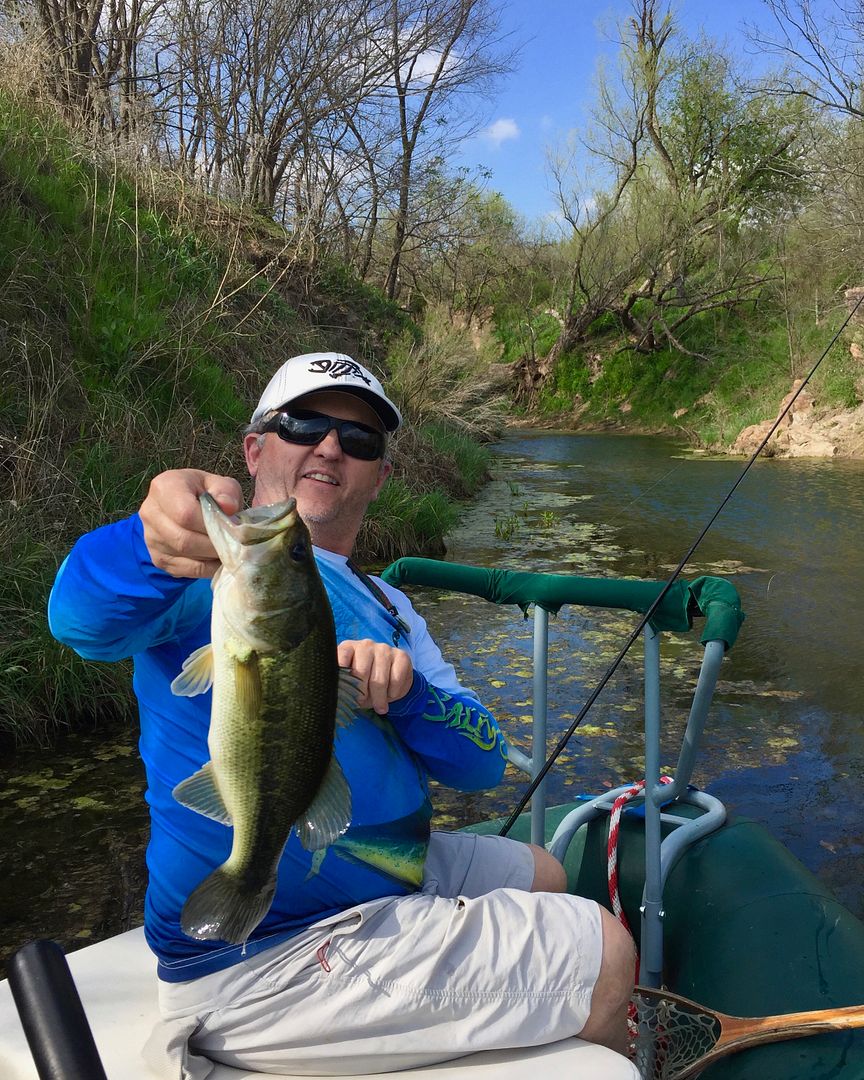 But we must have caught a dozen working up that water you see behind me. By this time we were already late getting to our take out but Shea didn't care….you just don't hit a wide open bite like this very often.
As we started working more downstream I made a long cast to some shallow weeds with my fluke and it blew up the second it hit the water…..yeah.
We still kept hitting fish and just had to move on so the women folk didn't think we had drown and been eaten by a rabid pack of Texas sized armadillos. All told in that last 2 ½ hours we must have caught 30 or so bass….it put me over 50 on the day. We didn't get back to town until about 10 pm but I was one happy camper….and Shea…..he's the best.